ATC-1000WF
802.11b/g Wi-Fi to Serial Converter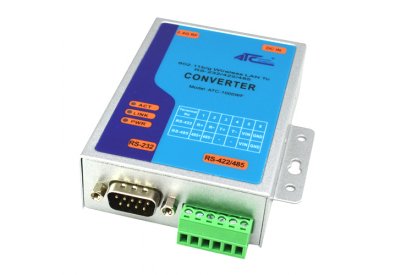 The ATC-1000WF is a 2.4GHz 802.11b/g WiFi device with U.FL connector for external antenna transceiver on board to provide a complete. The ATC-1000WF is a rail mounting device with lower-cost, pre-calibrated RF front-end and pre-certified Wi-Fi. This complete solution is preloaded with software to simplify integration and minimizes development of your application. In the simplest configuration the hardware only requires four connections (PWR, TX, RX, GND) to create a wireless data connection. The ATC-1000WF is programmed and controlled with a simple ASCII command language and webpage. Once the ATC-1000WF is setup it can scan to find an access point, associate, authenticate and connect over any Wi-Fi network.

Serial lnterface

lnterface Type

RS-233/485/422 3 in 1(optional)

UART Speed

1200bps to 115200bps

Data bits

5,6,7 or 8 bits

Parity

None,Odd,Even

Stop Bits

1,1.5 or 2 bits

Flow Control

None,Software;Xon/xoff,Hardware;RTS/CTS

Protocol

IP/TCP/UDP/ICMP/IGMP Checksum and ARP in hardware;TCP,UDP,ICMP,IGMP,IPv4,DHCP,BOOTP,ARP,

DNS,SMTP,SNTP,UPnP,PPPoE,Telnet,and HTTP in software

Connector

RS-232

DB-9 male

RS-485/422

6-pin Teminal block

Radio Characteristics

Frequency

2.412 - 2.472 GHz

Channels

1-11

Transmission rate

(over the air)

IEEE 802.11b;1,2,5.5 and 11 Mbps

IEEE 802.11g;6,9,12,18,24,36,48,and 54Mbps

Supports TX rate auto fall-back mechanism

Wi-Fi Certified ID

WFA11474 for AXM22001-2A-B

System

CPU

ASLX AX22001,dual 8-bit 1T 8051/80390 CPU (MCPU/WCPU)@80MHz

Memory

1M FLASH,64K SRAM

RF Transceiver

Airoha AL2230S

LED lndicators

LINK

WLAN status

ACT

lt will flash when transmit the data from WLAN toserial or from serial to WLAN

PWR

Power indicator

Power Supply

9-24VDC

Physical Characteristics

Housing

lron(1mm)

Weight

0.5Kg

Dimensions

100*86*26mm(3.94*3.39*1.02in)

Environmental Limits

Operating Temperature

-20 - +70℃

Storage Temperatre

-40 - 85℃

Ambient Relative Humidity

5% to 95%(non-condensing)

Standards and Certifications

RoHS,CE,FCC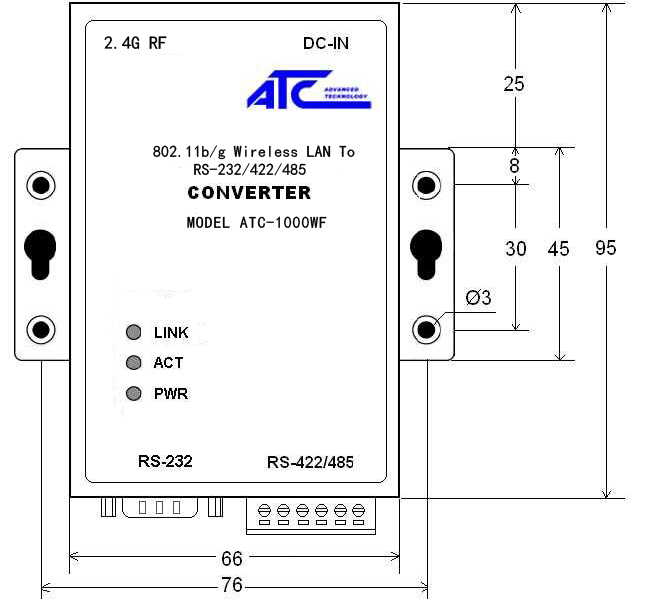 (1)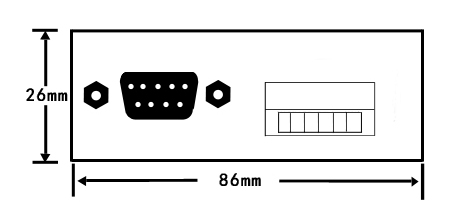 (2)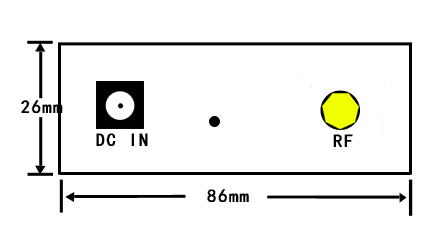 (3)

Our products are widely used in electric power, industrial control, telecommunications, commerce, banking, insurance, security, smart cards and other industries, the company sold products, complete, cost-effective, timely and thoughtful service. ATC-1000WF has 802.11b / g Wi-Fi industry standard port to connect VLAN, products using standard 2.4G Wi-Fi 802.11b / g transceiver and base station architecture and Ad-Hoc network topology interface via the wireless network card or AP Easy (transmission distance: visual distance 350 meters). For wireless audio, fortune equipment monitoring, telemetry, security, industrial sensor control, smart home, medical equipment, RS232 / 485/422 serial devices to wireless working.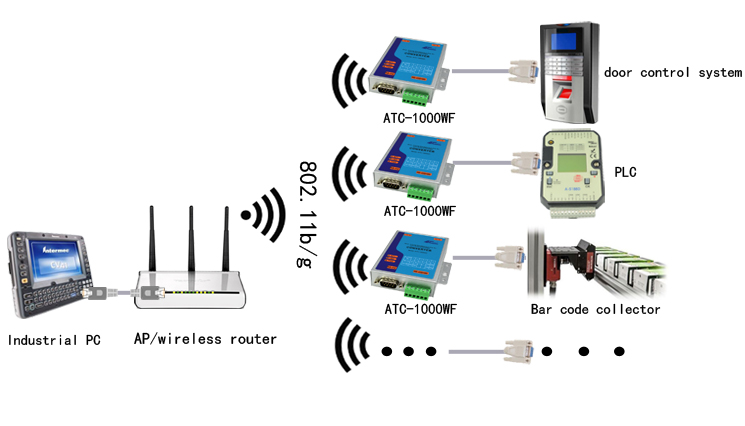 ATC-1000WF unit

1PCS

Documentation and software CD

1PCS

Power adapter (EU、SU、AU、CN)9v@1A

1PCS

ATC-1000WF Instructions Book

1PCS

monopole Antenna (2 bBi RP-SMA)

1PCS

Din Rail Mounting Bracket ( for choosing accessory)