Junction Box
Junction Box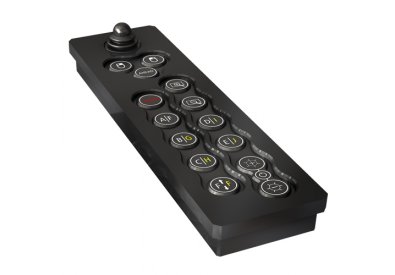 Part number:
Junction Box
In Stock : Available
The BERGE Multifunction Keypad and Joystick has been developed to meet the specific needs and demonds of the maritime market.
The keypad can be tailored to meet individual functions,color,logo and design requirements.Each key can generate the user's required key codes.Sequenced key codes can also be generated on a single key.Multiple profiles can be stored,and changed directly from our keypad making integration a breeze.
Charactor Specification:
Size:250*70*24 mm
MountingD rop-in or bracket mounting
Interface USB HID
Number of keys15
Number of indicators15 dimmable
Protection level IP67
OS Windows,Linux or Andriod
Operating temperature: -15℃ ~55℃
Storage temperature:-20℃ ~ 60 ℃
Joystick 3 AXIS Analogue Push Button
Joystick:
The 3 axis analogue push button joystick is thumb operated,and features spring return to center.
Supports Mouse mode,4 way,8 way,Prioritize vertical,Prioritize Horizontal,Dead Zone,Diagonal Size,Emulation Speed and a broad range of customizations.