ATC-106A
Low Cost Port Powered RS-232 to RS-485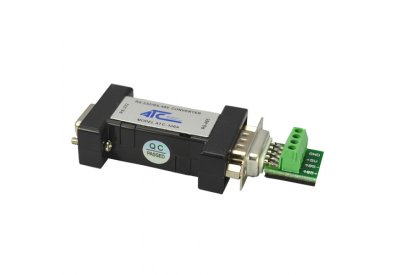 ATC - 106A interface converter can send the signal RS–232C serial port data (TD) and receive data (RD) into two line balance of the half-duplex RS - 485 signal. It is the best choice of a remote Control device or point to multipoint communication bus. The interface transition device don't need ac/dc converter, it can be directly from the Data within the RS-232 port transmitter data (TD), request to Send (RTS) or Data terminal ready (DTR) to obtain power. It also have the Automatic Send Data Line Control function. When to Send and receive Data, do not need the RTS control. So the power supply from serial port and Automatic flow Control makes you don't have to reset the hardware or install software. Improve the surge protection, can ensure the safety of the RS-485 network.
Application
Point to point, point to multi-point communication

Industrial distribution system, industrial control automation

Road traffic control automation

Closed circuit monitoring

Security protection system

Intelligent card, check on work attendance gate safety system
Communication Parameters

Interface

Compatible with the EIA/TIA RS-232-C and RS-485 standard

RS-232

TD, RD, GND

RS-485

485+, 485-, GND

Working Mode

Point to point or point to multipoint, asynchronous half duplex(two line)

Direction Control

Automatic Send Data Line Control, automatic identification and control data transmission direction

Baud Rate

300-115.2kbps,automatic detection rate of serial port signals

Transmission Distance

RS-485 side 1200 meters (19.2 kbps), RS-232 side suggest no more than 10 meters

Connector

RS-232

DB-9 female

RS-485/422

DB9 male or 6-pin Terminal block

Load Capacity

Maximum connections of 32 nodes(64,128,256 can be customized)

Power Supply Parameters

Power Supply

Without external power supply. Equipment from RS-232 port TXD, RTS, DTR signal for power supply.

Power Consumption

Static power consumption within 10 mA, dynamic average power consumption of 40 mA

Physical Characteristics

Housing

Plastic shell

Weight

0.1Kg

Dimensions

88mmx33mmx17mm

Environmental Limits

Operating Temperature

-20 ~ 70°C (-4 ~ 158°F)

Storage Temperature

-40 ~ 85°C (-40 ~ 176°F)

Ambient Relative Humidity

5% to 95%(non-condensing)

Standards and Certifications

RoHS, CE, FCC
The product application
Company products are widely used with the electric power, industrial control, telecommunications, commerce, banking, insurance, security, smart CARDS, and other industries, production and sales of the products of the company, supporting complete, cost-effective, timely and thoughtful service, products are exported to Taiwan, Hong Kong, South Korea, Thailand, the United States, Poland, Italy, Spain, Egypt, Russia, Norway, Singapore, Malaysia, Indonesia, and other national regions, well received by clients at home and abroad.
Application
Point to point, point to multi-point communication

Industrial distribution system, industrial control automation

Road traffic control automation

Closed circuit monitoring

Security protection system

Intelligent card, check on work attendance gate safety system