ATC-2004
4-port RS-232/422/485 Serial Port Device Server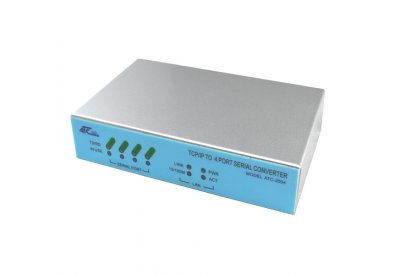 The ATC-2004 is a 4 Port RS232/485/422 to TCP/IP converter integrated with a robust system and networkmanagement features designed for industrial equipment to be accessed and controlled via Intranet or Internet. Byintegrating RTOS (Real Time Operating System) and complete TCP/IP protocol stack capability, ATC's ATC-2004 provides not only a robust and high performance system to make your device connecting to Network, but also ease installation and Internet access.
The ATC-2004 Web Configuration is a breeze to operate and totally independent of the operating system platform you use.

1)4-Serial Port RS232/RS485 TCP/IP Converter
2) RS-232/422/485 3-in-1 4 serial interface 300-230.4Kbps baud rate
3) RS-485 conversion offers automatic data control
4) Supports 2, 4 wire RS-485
5) All serial ports have built-in 600W lightning protection
6) 10/100M Ethernet, auto detect straight / cross cable
7) Supports protocols like TCP/IP, UDP, DHCP, PPPoE, dynamic DNS
8) Supports standard DIN-rail, easy to install and fix
9) Compact dimensions: 95 x 65 x 25mm
Operating modes:
a) Driver operating modes: windows standard serial port
b) Socket operating modes:
i) TCP server operating mode
ii) TCP client operating mode
iii) UDP operating modes
c) Special operating modes:
i) Peer connection
ii) Modem mode
10) Application fields:
a) LED info display equipment
b) PLC control and management
c) SCADA, measuring instruments and monitoring system
d) CNC management
e) Medical treatment / medication automation
f) Factory automation
g) Building automation
h) Check on work attendance/ human resource management

Serial Interface

Data Rates

1,200bps to 230,400 bps

Characters

5,6,7,8

Parity

Odd, even, none, Mask, Space

Stop Bits

1 or 2

Flow Control

XON / XOFF, RTS / CTS

Connector

Removable 6 bit Terminal Block

Network Interface

Interface

Ethernet 10Base-T or 100Base-TX (Auto-Sensing), Half/Full Duplex

Connector

RJ45

Protocol

TCP/IP, UDP, Telnet, ARP, DHCP, PPPoE, ICMP, HTTP, DDNS and SMTP

Indicators (LED)

l 10/100Base-TX Link & activity indicator

l Date Sending / Receiving between Serial and the Ethernet

l Power indicator

Management

l Support TCP/UDP Server/Client mode

l User name & password protected for web management

l Built-in http server for set up and remote management via any browser easily

l Support backup & restore system configuration data

l Support Windows 95/98/ME/NT/2000/XP/2003 virtual COM drivers

Architecture

CPU

16 bit CPU, 100MHz

Memory

256KB ROM, 768KB SDRAM

Physical Specifications

Dimensions

160 x 87 x 32 mm (6.3 x 3.43 x 1.26 in)

Weight

1.0 kg

Installation

DIN-Rail Mounting

Operating temperature

-4° to158° F (-20° to 70° C)

Power

Input Voltage

8-24 VDC@500mA

supported os

Windows 95/98 ME, Windows 2000, Windows XP/7/8/10, Windows NT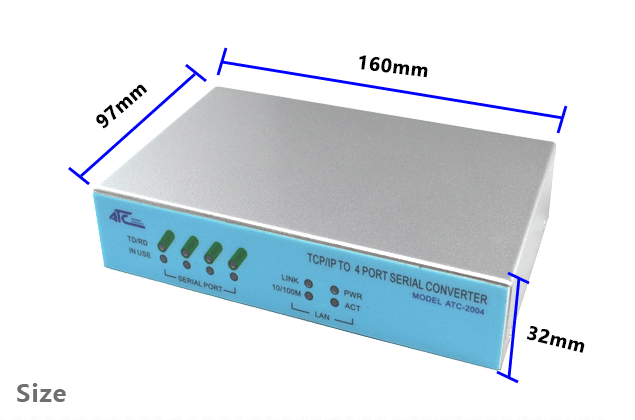 Through the TCP/IP network to remote control serial device.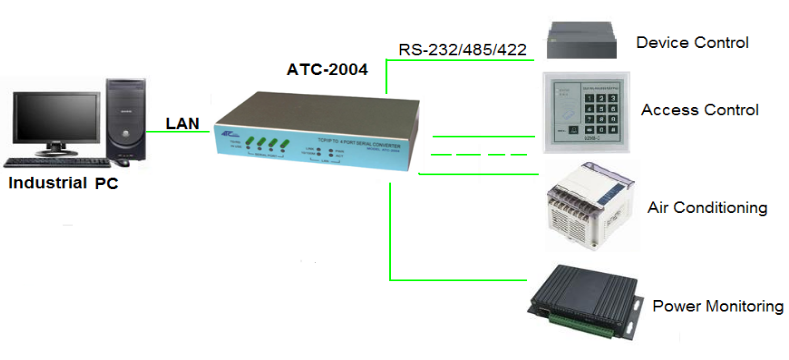 ATC-2004 serial server 1 PCS
Documentation and software CD 1PCS
Power adapter 9V