ATC-840
USB To RS422 Converter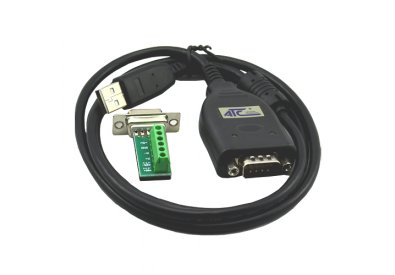 The ATC-840 module is a cost-effective way to convert RS422 industrial buses to a USB interface. When connected to a PC USB port the ATC-840 module is automatically detected and is installed as a native COM port which is compatible with any existing serial communication application. Muliple modules can be installed when using USB hubs thus allowing a hassle-free configuration of a multi serial system without any IRQ or DMA configuration.
They have 600W protect between the USB port and RS422 protects the PC from spykes or possible misconnections in the communication bus.

1 Computer interface: USB 1.1 2.0 Plug and Play.
2 Operational system virtual serial port driver.
3 Supports Windows 98/ME/XP/2000/CE/Vista, MAC &
4 Linux 2.4.20 or superior.
5 Field Interfaces: RS-422 Full Duplex ,
6 Automatic flow control for RS422 Full Duplex.
7 Transmission rate: from 300 bps to 1Mbps.
8 MaximumRS-422 cable length : 1200 m
9 Maximum number of devices in the RS422 network: Full
10 Duplex to 32 devices
11 Power: from the USB port.
12 Consumption: <100 mA.
13 RS-422 bus protection: 600W.
14 USB connection: Mini-B connector. 100mm cable with the module.
15 RS-422 connector: DB 9Male
16 ABS enclosure: 60 x 57 x 24 mm(not include cable)
17 Operating environment: 0 to 70°C, 10 to 90% relative humidity, non-condensing.

Company products are widely used with the electric power, industrial control, telecommunications, commerce, banking, insurance, security, smart CARDS, and other industries, production and sales of the products of the company, supporting complete, cost-effective, timely and thoughtful service.ATC - 840 is a USB transfer RS - 422 interface converter, 600 w surge protector, protect the equipment from lightning.Products are widely used in the attendance, entrance guard, selling rice, monitor, car park management, and other fields.Good product not only implement different signal transformation, communication, also let your computer extend the serial port resources.

| | |
| --- | --- |
| ATC-840Products | 1PCS |
| ATC-840user's manual | 1PCS |
| ATC-840 CD | 1PCS |