ATC-2000WF
Wi-Fi 802.11 b/g to Serial Port Converter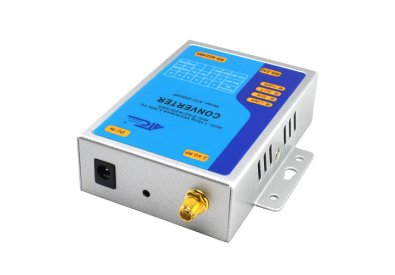 The ATC-2000WF is a stand alone, wireless 802.11 networking module. Because of its small form factor and extremely low power consumption, the ATC-2000WF is perfect for mobile wireless applications such as asset monitoring, GPS tracking and battery sensors. The ATC-2000 module incorporates a 2.4GHz radio, processor, TCP/IP stack, real-time clock, crypto accelerator, power management and analog sensor interfaces. This complete solution is preloaded with software to simplify integration and minimizes development of your application. In the simplest configuration the hardware only requires four connections (PWR, TX, RX, GND) to create a wireless data connection. Additionally, the sensor interface provides temperature, audio, motion, acceleration and other analog data without requiring additional hardware. The ATC-2000WF is programmed and controlled with a simple ASCII command language. Once the ATC-2000WF is setup it can scan to find an access point, associate, authenticate and connect over any Wi-Fi network(The ATC-2000WF only have UART function. Others functions only appear in embedded module)Block Diagram.

Qualified 2.4GHz IEEE 802.11b/g transceiver

High throughput, 4Mbps sustained data rate with TCP/IP and WPA2

Ultra-low power (10uA sleep, 50mA Rx, 100mA Tx)

On board ceramic chip antenna and U.FL connector for external antenna

8 Mbit flash memory and 128 KB RAM

RS-232/422/485 interfaces

10 general purpose digital I/O

8 analog sensor interfaces

Real-time clock for wakeup and time stamping

Accepts 9V-24V Power supply

Supports Adhoc connections

On board ECOS -OS, TCP/IP stacks

Wi-Fi Alliance certified for WPA2-PSK

FCC / CE/ ICS certified and RoHS compliant.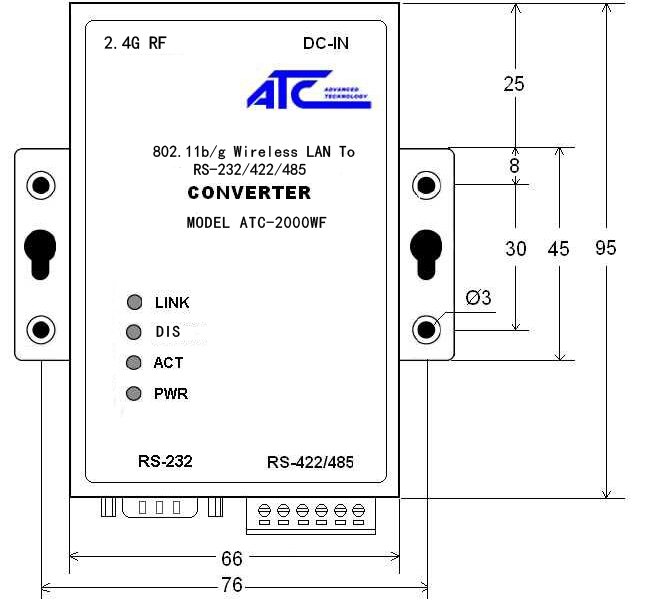 (1)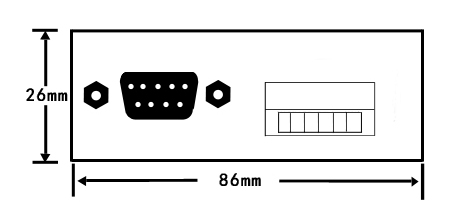 (2)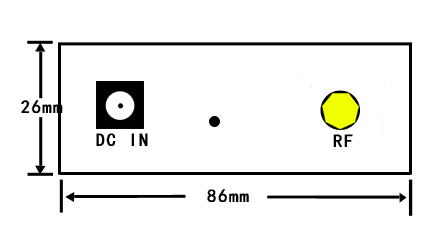 (3)

Our products are widely used in electric power, industrial control, telecommunications, commerce, banking, insurance, security, smart cards and other industries, the company sold products, complete, cost-effective, timely and thoughtful service. ATC-2000WF has 802.11b / g Wi-Fi industry standard port, through a wireless network card or AP easily connect VLAN, products using standard 2.4G Wi-Fi 802.11b / g transceiver. For wireless audio, fortune equipment monitoring, telemetry, security, industrial sensor control, smart home, medical equipment, RS232 / 485/422 serial devices to wireless working.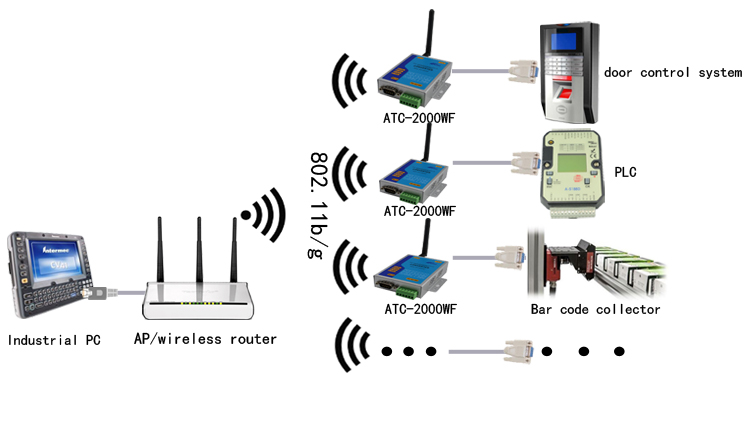 ATC-2000WF unit

1PCS

Documentation and software CD

1PCS

Power adapter

(EU、SU、AU、CN)

9v@1A

1PCS

ATC-2000WF Instructions Book

1PCS

monopole Antenna (2 bBi RP-SMA)

1PCS

Din Rail Mounting Bracket ( for choosing accessory)