ATC-3002
1 port Modbus Gateway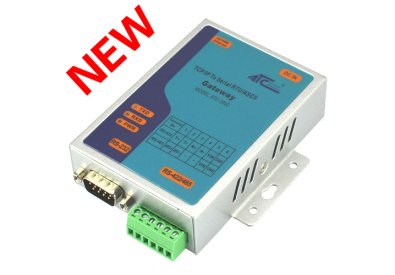 Modbus is an industry adopted communication protocol that is based on RTU, ASCII, and TCP protocols for various of applications; these three protocols are commonly used by a lot of equipments in the industry, such as DCS, PLC, HMI, power meters, various sensors and measuring instruments. ATC-3002 series supports the standard Modbus protocol and is capable of converting the Modbus protocols between Modbus RTU/ASCII (Master) to Modbus TCP (Slave). It's asimple and cost effective Modbus Gateway.
ATC-3002 series which supports the three most commonly used serial communication interfaces, RS-232, RS-422 and RS-485. It also provides a web-based configuration UI, so the users can select the serial interface easily.

RS-232/422/485 3 in 1 interface
Support 10/100Mbps Ethernet port
Supports 4-wire and 2-wire RS-485 work mode
Automatic data direction control on RS-485
Supports 24VDC industrial power supply
Terminal block easily for RS-422/485 installation
Configure via webpage and windows utility
Supports virtual serial port,TCP Server/Client and UDP work mode
Built-in watchdog
CE, RoHS and FCC Certifications

Serial Interface

Interface Type

RS-232/485/422 3 in 1

Data Rate

300bps ~ 115200bps

Data Length

7,8 bits

Parity

Odd, Even, None

Stop Bits

1,,2 bits

Flow Control

None, Hardware: RTS/CTS

Connector

RS-232

DB-9 male

RS-485/422

6-pin Terminal block

Serial Line Protection

600W for RS-232, RS-485/422

Network Interface

Interface Type

Ethernet 10/100Mbps (Auto-Sensing)

Connector

8-pin RJ-45

Isolation Protection

Built-in 1.5KV

Protocol

ModBus TCP/ASC/RTU,SNMP,HTTP

Software

Network Protocols

ARP, UDP/IP, TCP/IP, PING/ICMP, DHCP, BOOTP, Auto IP,TFTP, SNTP ,TELNET ,HTTP,

DNS,SMTP, PPP, LCP, PAP, CHAP, IPCP, PPPoE. SSL/TLS,HTTPS

Configure Options

Web Page,Windows Utility,Telnet

OS support

Windows95/98/ME/NT/2000/XP/2003/WIN7/WIN8/XP x64/2003 x64/WIN7 x64/WIN8 x64、

Linux real、TTY、UNIX

LED Indicators

LINK

Link Activity Indicator

ACT

Data Transmitting between Serial and Ethernet Indicator

TXD

Ethernet to transmit data to the serial port Indicator

RXD

Serial port to transmit data to Ethernet Indicator

PWR

Power indicator

Power Supply

9~48VDC

Physical Characteristics

Installation

DIN-Rail Mounting

Housing

Iron (1mm)

Weight

0.5Kg

Dimensions

Without ears

100 × 67 × 26 mm(3.94 × 2.64 × 1.02 in)

With ears

100 × 86 × 26 mm(3.94 × 3.39 × 1.02 in)

Environmental Limits

Operating Temperature

-40 ~ 70°C (-13 ~ 158°F)

Storage Temperature

-40 ~ 85°C (-40 ~ 176°F)

Humidity

5% to 95%(non-condensing)

Standards and Certifications

RoHS, CE, FCC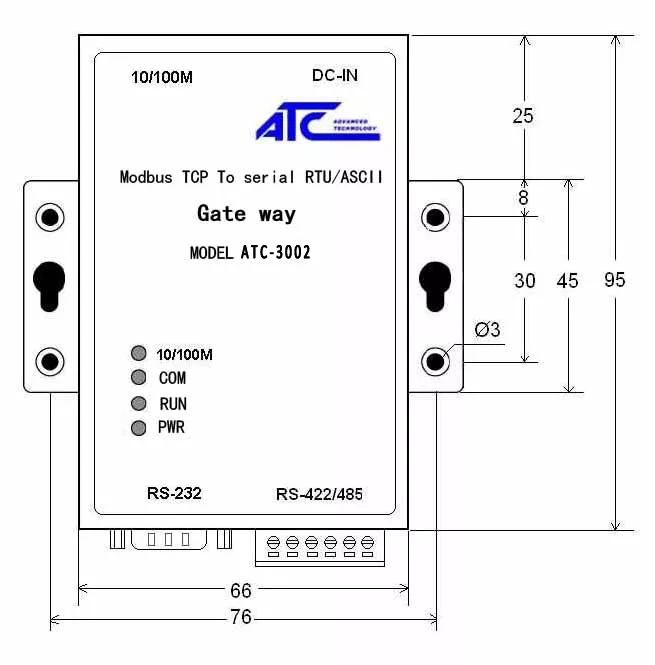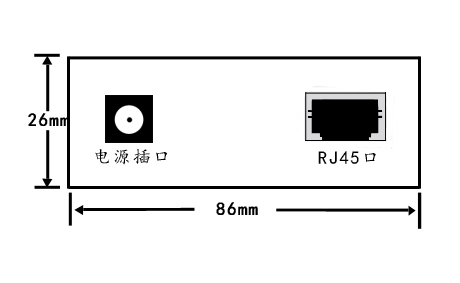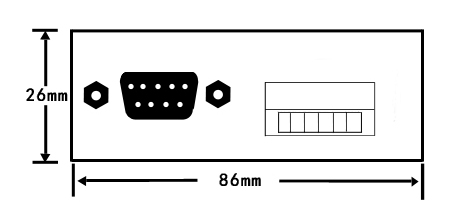 Our products are widely used in electric power, industrial control, telecommunications, commerce, banking, insurance, security, smart cards and other industries, the company sold products, complete, cost-effective, timely and thoughtful service. ATC-3002 Modbus Gateway is an industrial converter, RS-232 interface for each product line 600W, RS-422/485 1000W per line lightning surge protection products can be used in oil fields, dams, steel mills, iron plant, and some other places. . . Working environment up to -40 ℃ to 70 ℃.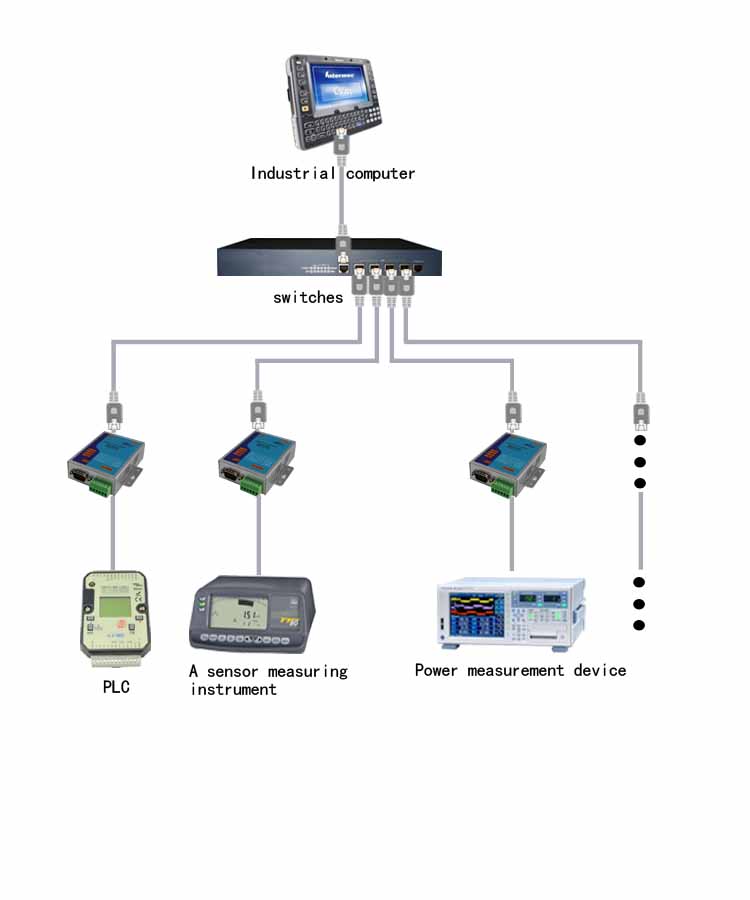 ATC-3002 unit

1PCS

Documentation and software CD

1PCS

Power adapter (

EU、SU、AU、CN

)9v@1A

1PCS

ATC-1000Instructions Book

1PCS

Din Rail Mounting Bracket ( for choosing accessory)